Plastic Road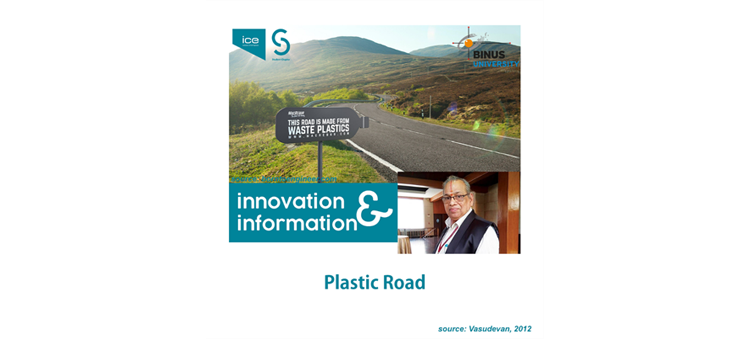 Rajagopalan Vasudevan of the Thiagarajar College of Engineering is an Indian scientist who has worked mainly in waste management. In India, about 15,000 tons of plastic waste is released every day. Disturbed by calls to ban plastic, which he believed was important to poor people, he needed to discover an answer for the developing ecological difficulties it raised.
Finding appropriate utilization of the arranged plastics squander is the need of great importance. On the other side, the road traffic is increasing. The traffic intensity is increasing. The use of plastic waste as an asphalt mixture helps for reuse plastic waste and for the improvement of road strength. Polyethylene terephthalate, polyvinyl chloride (PVC), polypropylene (PP), and high and low-density polyethylene (HDPE and LDPE) are the most used plastic for product packaging. These materials are sorted from plastic waste, then cleaned, dried, and shredded. The shredded plastic is blended and melted at around 170ᵒC, melted plastic is then added to hot bitumen and mixed. After being mixed, the hot plastic and bitumen become a mixture of asphalt.
Plastic-bitumen composite roads improved the tensile strength, they do not absorb water and have better flexibility which results in less pothole formation on roads.  Plastic Roads method will help in making streets a lot quicker and furthermore will spare nature from risky plastic waste. The streets likewise show more noteworthy protection from harms brought about by overwhelming downpours. Road surfaces remain smooth, less need for maintenance, and assimilate sound better.
REFERENCE
Vasudevan, R., et al. "A Technique to Dispose Waste Plastics in an Ecofriendly Way – Application in Construction of Flexible Pavements." Construction and Building Materials, vol. 28, no. 1, Mar. 2012, pp. 311–320., doi:10.1016/j.conbuildmat.2011.08.031