Analisis Kinerja Bracing Tipe "X" terhadap Perilaku Struktur Tidak Beraturan (Studi Kasus: Gedung J PKN STAN)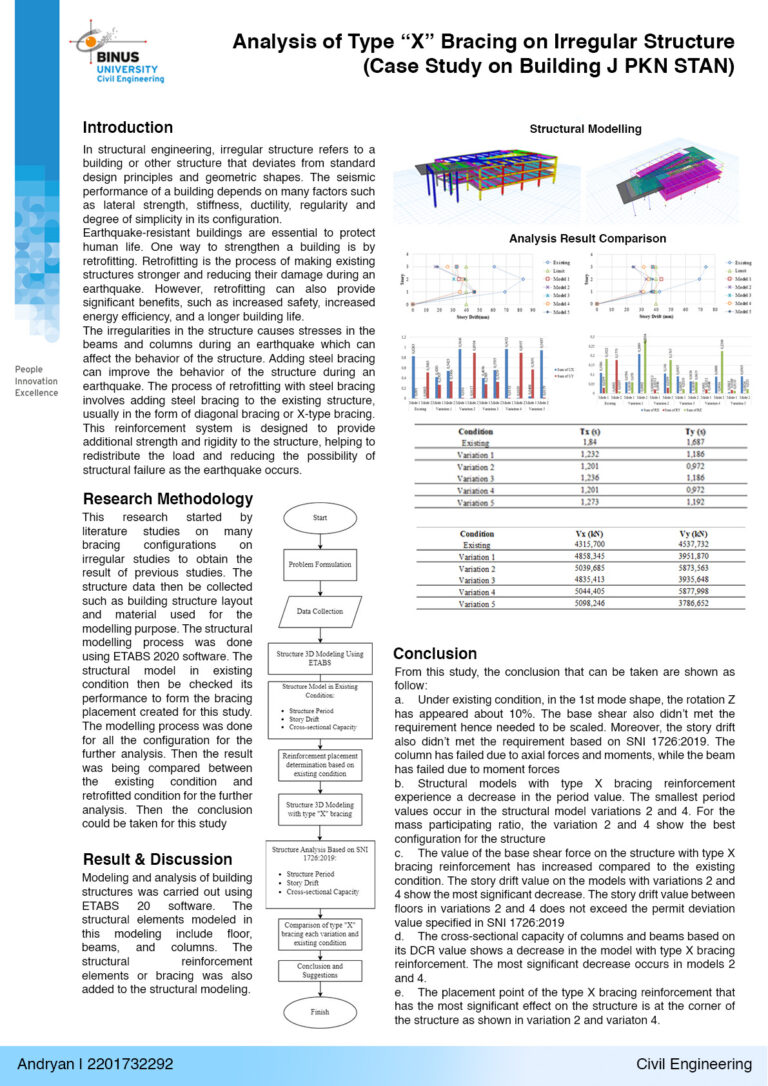 Irregular structure refer to buildings or other structures that deviate from standard design principles and geometric shapes. Based on previous studies, one of the factors that cause failure to the irregular structure is the asymmetrical shape which cause uneven load distribution to the structure. Therefore, this study aims to evaluate the irregular structure building and bracing type X on this structure. The parameters that being evaluate are period, modal participating mass ratio, base shear, story drift and DCR. The modelling process are done using ETABS which is an element-based structural modelling software. The results indicate there are failure occurred in the structure on existing condition in terms of modal participating mass ratio, story drift, and also DCR. Model with bracing type X indicate a reduction in the period as well as the rotation Z (RZ) of the mass participating. Story drift on the model with bracing type X also indicate a significant reduction, yet on the model 1,3, and 5 the story drift value haven't met the story drift requirement. The DCR value of column and beam on the model with bracing type X also indicate a reduction, however there are some element on the structure that haven't met the requirement on model 1,3, and 5. The bracing placement on the corner of the structure present a more significant effect to the structure.
Keywords: Irregular structure, bracing type X, ETABS, story drift, periode, modal participating mass ratio, base shear, DCR
Struktur tidakberaturan adalah bangunan atau struktur lain yang menyimpang dari prinsip desain standar dan bentuk geometris. Berdasarkan penelitian sebelumnya, salah satu faktor yang menyebabkan kegagalan pada struktur tidakberaturan adalah bentuknya yang tidak simetris yang menyebabkan distribusi beban yang tidak merata pada struktur. Oleh karenanya, penelitian ini bertujuan untuk mengevaluasi kinerja bangunan dengan sistem struktur tidakbertauran dan perilaku bresing tipe X terhadap struktur tidak beraturan Adapun parameter yang ditinaju antara lain adalah periode, partisipasi massa, gaya geser dasar, simpangan antar lantai, dan kapasitas penampang (DCR). Penelitian ini menggunakan bantuan software ETABS untuk pemodelan struktur berbasis elemen.  Hasil yang didapatkan dari penelitian ini adalah struktur tidakberaturan yang ditinjau pada kondisi eksisting menunjukan adanya kegagalan dari pola partisipasi massa, nilai simpangan antar lantai serta kapasitias penampang kolom dan balok (DCR). Model struktur dengan bresing tipe X menunjukkan adanya penurunan pada periode serta menurunkan nilai rotasi pada arah Z (RZ) pada partisipasi massa. Simpangan antar lantai pada struktur dengan perkuatan bresing tipe X juga mengalami penurunan yang cukup signifikan namun pada model 1,3, dan 5 nilai simpangan antarlantai belum memenuhi syarat. Nilai kapasitas penampang pada model dengan perkuatan mengalami penurunan namun masih terdapat beberapa elemen struktur yang belum memenuhi syarat pada model 1,3 dan 5. Penempatan perkuatan pada ujung struktur memberikan efek yang paling signfikan pada struktur.
Kata Kunci: Struktur tidakberaturan, bresing tipe X, ETABS, simpangan antar lantai, periode struktur, partisipasi massa, gaya geser dasar, DCR