Training BIM 5D Glodon with Astra Polytechnic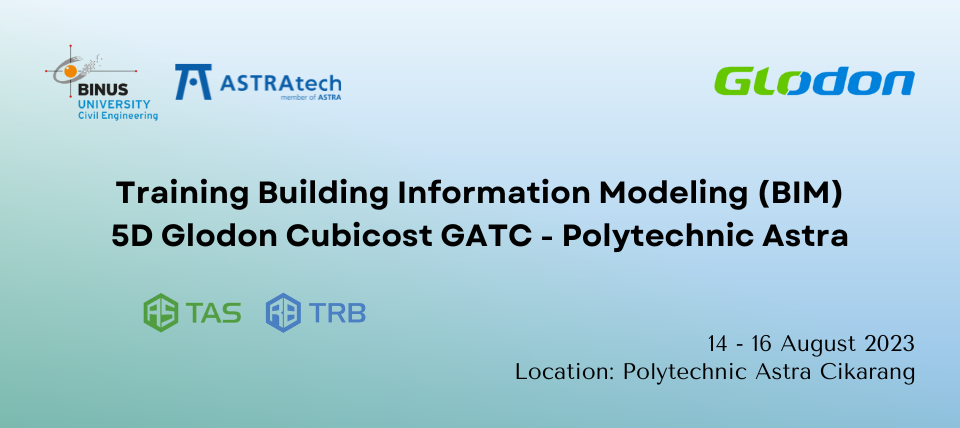 Jakarta, August 23, 2023 – Politeknik Astra played host to an innovative training centered around Building Information Modeling (BIM) 5D. The training event provided a valuable learning platform for participants from Politeknik Astra, various universities and institutions, and academics interested in mastering Glodon's software. The training took place for 3 days, from August 14 to 16, 2023, and was the first batch conducted at the BIM Room of Politeknik Astra.
GATC is established as a center for both students and construction experts to be able to learn and obtain international competency certification for 5D BIM Cubicost which includes TAS (Quantity Take Off for Architectural Structures), TRB (Quantity Take Off for Rebar). A standout feature of this training was the utilization of Cubicost TAS (Take-off for Architecture and Structure) and TRB (Take-off for Rebar) software. With the assistance of these software tools, participants had the opportunity to learn precise calculations of required materials based on architectural and structural designs, as well as estimate rebar needs in projects. The utilization of this software holds the potential to diminish the risk of calculation errors that could affect projects holistically.
Civil Engineering students from BINUS University had the privilege to partake in the TAS and TRB Glodon software training, accompanied by internationally recognized certification provided by Glodon Indonesia.
It is anticipated that such training sessions will continue to be organized by Politeknik Astra and other institutions alike, continually propelling growth and innovation within the ever-evolving construction industry.