Workshop Pendataan Basis Data Perumahan Tahap I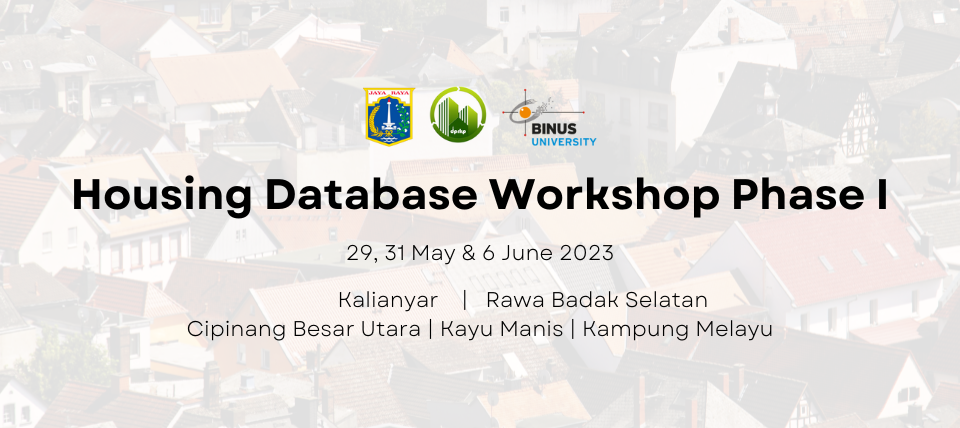 Marking a pivotal moment in a collaborative project, the Phase I workshop was conducted on May 29, May 31, and June 6, 2023. This significant event came to fruition following the remarkable achievement of exceeding 50% progress on the surveyed data on local housings. The workshop's primary objective is centered around the validation of data input into the Jakarta Satu web platform. Collaboratively, surveyors and dedicated dasawisma from each sub-district, namely Kalianyar, Cipinang Besar Utara, Kampung Melayu, Kayu Manis, and Rawa Badak Selatan, came together for this purposeful endeavor.
During the workshop, the PIC Lecturers and Field Coordinators delivered insightful presentations, shared the progress made and the obstacles encountered along the way. Subsequently, each surveyor student diligently rectified any data discrepancies, ensuring compliance with the directives set forth by DCKTRP. The workshop culminated in a comprehensive evaluation of the number of buildings surveyed, performed collaboratively with the dasawisma.
This workshop serves as a testament to DKI Jakarta's unwavering commitment to enhancing the quality of life for its residents. It signifies the inception of an exciting journey towards formulating sustainable solutions and paving the way towards a brighter future.