Accommodation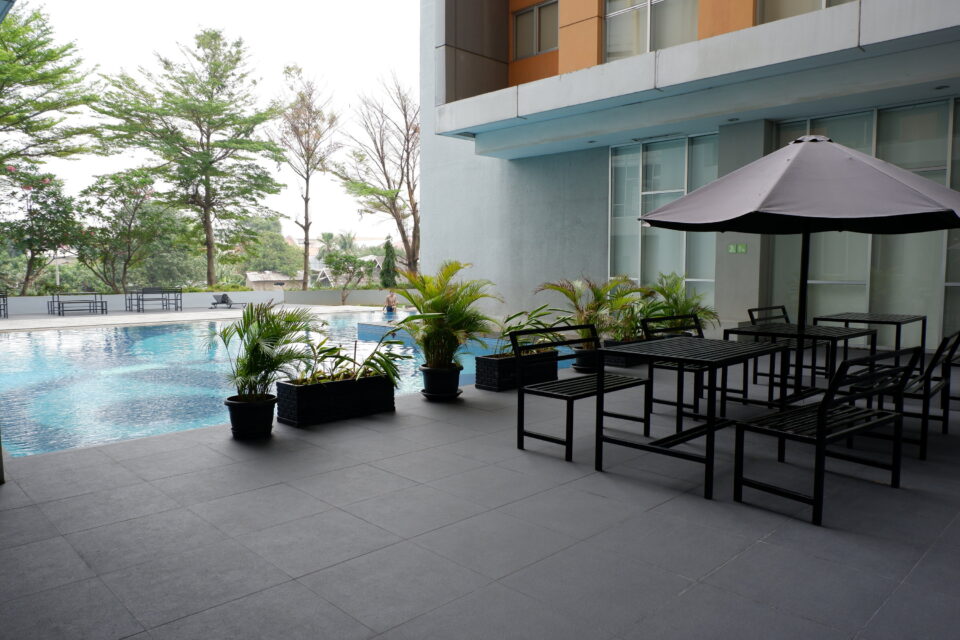 Where should I live in Jakarta?
On-Campus Accommodations
We have a cool student accommodation near our Anggrek Campus. Check out the BINUS Square Hall of Residence (BSQ) page here to see what rooms, facilities, and student activities and enrichments it offers. By staying in BSQ, you can expand your friendship and grasp some new skills through the activities they hold. Check out the fun activities we had at BSQ on our blog Hiveindo or at BSQ page here.
What facilities does BSQ have?
Are you enjoying sports? BSQ has its own gym, a beautiful swimming pool, jogging track, and futsal and basketball court. All can be accessed for free!
Do you like games? Our boarders often have a lot of fun games night at our lounge and games room. You can choose your favorite games to play with your boarder-friends. There are two pool tables, soccer-tables, table tennis, karambol, and chess sets.
Foodies gathered! We have our own cafetaria with lots of budget-friendly and healthy food to try. P.S. the sellers are very kind too!
The comfort of 24-hour convenience store at your door step
Want to host a study together sessions, or just have fun with your friends? We have student lounge, meeting rooms, and reading rooms
Laundry day is easy as you get a laundry service for you included in your room rent!
Free shuttle bus services to go to your campuses, at your service!
and more! Check out our BSQ website.
What supports and activities are available?
BINUS Square Student Clubs are looking for you, future leaders, to create the fun, enriching BSQ living with other boarders
Program Development Center also hosts many enrichment events to upgrade your skills, and also available for counseling or mentoring along your study
Enjoy the closely-knit friendship with fellow international students and Indonesian boarders (and the fun events they also have for you to take part!)
Free airport pick-up services (Monday – Friday, office hour) from Soekarno Hatta International Airport
The rooms and pricing
Feel right at home during your stay at BINUS SQUARE. The cool modern design of your room is the right style for energetic young people.
You may choose either to stay in a Single Occupancy Room or a Twin Sharing Room. All rooms are air-conditioned, equipped with internet access, a single bed, study desk & bookshelves, and dresser for each boarder.
| | |
| --- | --- |
| Single Occupancy Room | Double Occupancy Room |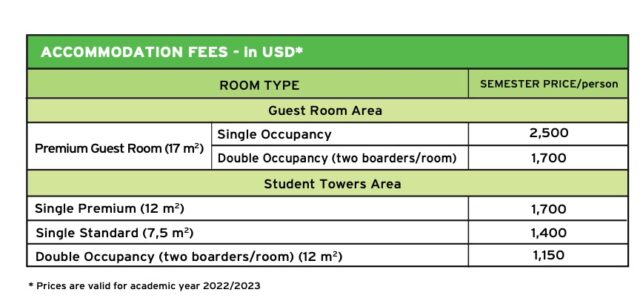 Price includes:
Laundry service (Max. 21 kg/month)
Electricity quota (max. 180 kWh/month for Single Occupancy Room, or max. 310 kWh/month for Double Occupancy Room. Should the double occupancy room is only occupied by 1 student, the electricity limit is 180 kWh/month)
Any excess electricity quota usage and laundry quota is charged to boarders
Notes:
There is a one-time refundable security deposit (USD 200) when you check in.
You can book your room starting 3 months from your planned arrival date by filling the Application Form 2021-2022 International Boarder BSQ and return it to Ms. Felicia (felicia.margaretha@binus.edu).
Off-Campus Private Accommodations
Some international students prefer to stay in an apartment because most of apartments in Jakarta are located in the strategic place which you can easily find transportation and near to market and entertainment places. Renting an apartment in Jakarta is rather expensive since it has a high demand. The price of renting apartment is different depends on its location, here are some apartment rental prices around Jakarta: 
Kebayoran 

area: Its monthly cost around IDR 15,000,000 (15 million rupiah) or USD$1,045 per month for a full – furnished apartment. 

 

Kebon Jeruk 

and 

Kemang 

area: Its monthly cost around IDR 4,000,000 (4 million rupiah) or USD$278 per month for a full – furnished apartment.

 

Menteng 

and 

Pluit 

area: Its monthly cost around IDR 2,500,000 per month (2,5 million rupiah) or USD$174 for a full – furnished apartment.

 
The facilities for each type of apartment are different as well as the terms and conditions such sharing room for your friends.

Furthermore, you can also rent a house and rooms in a shared house/building called kos-kosan in Kemanggisan and Kebon Jeruk area, it costs around IDR 1,500,000 – IDR 5,000,000 (USD$209.03 – USD$348.38) per month. Various amenities and facilities available in kos-kosan rooms, but your basic bedroom furnitures (bed and mattress, desk and chair, wardrobe) and internet are usually provided. You can look for either en-suite rooms, or get a shared bathroom kos-kosan at a cheaper price. Other options you might want to look at is whether your room has an air-conditioner (AC) installed, or not.
Where you can book?
1. Apartments and private residences: Travelio, Flokq
2. Kos-kosan: Mamikos