Fransisca Erica as the Awardee of IISMA 2021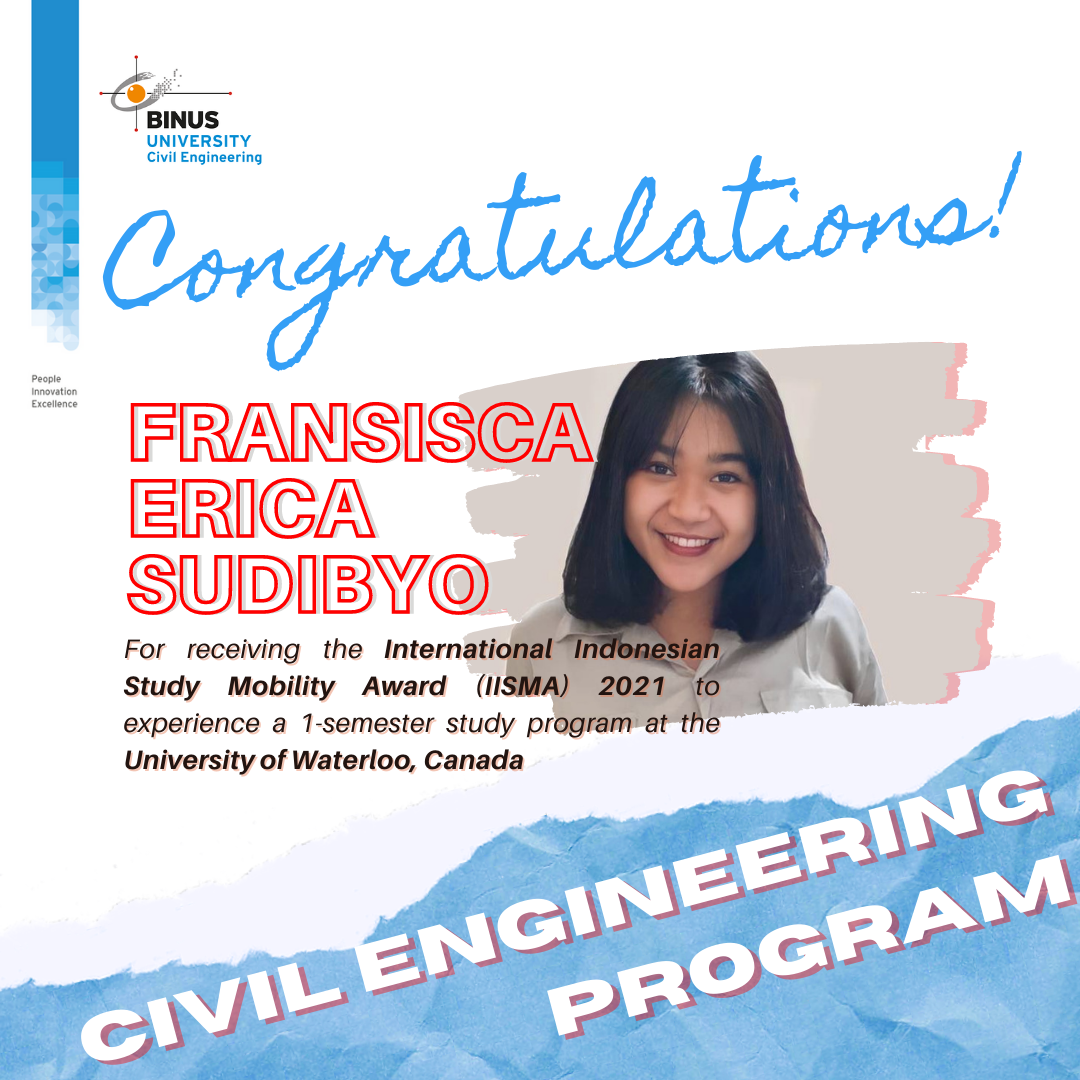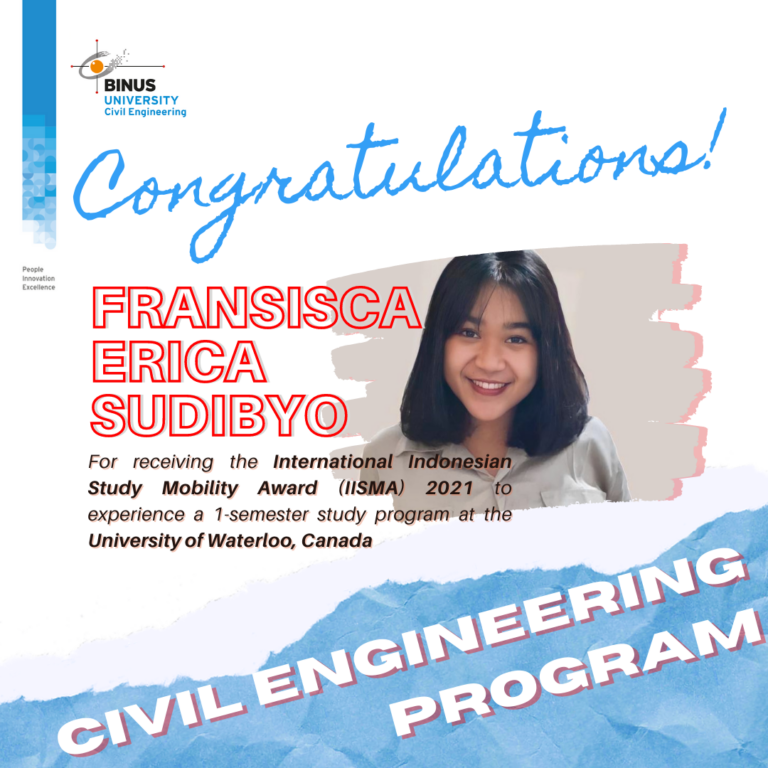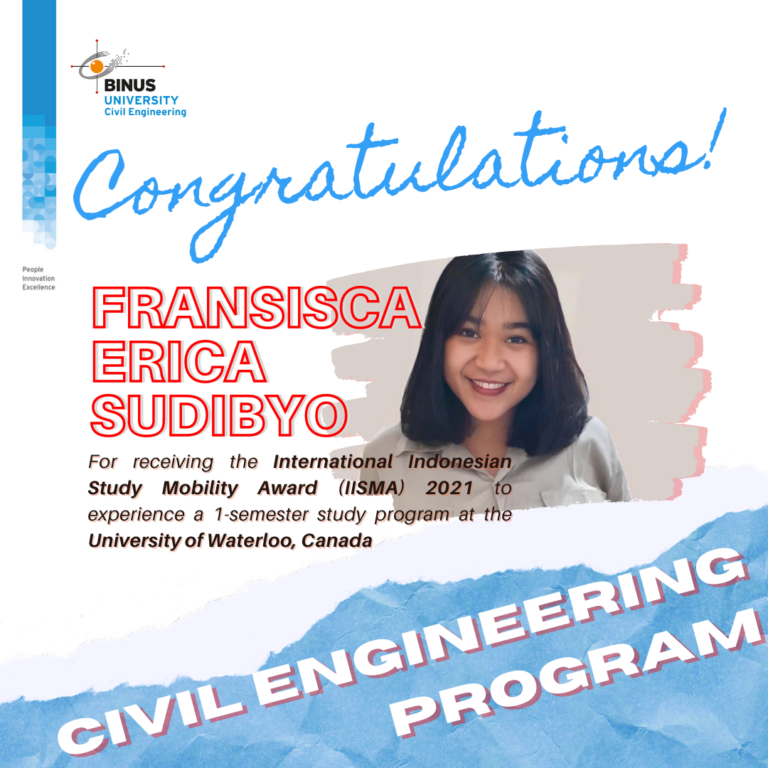 All lecturers and students of the Civil Engineering Department would like to extend their heartiest congratulations to 𝗙𝗿𝗮𝗻𝘀𝗶𝘀𝗰𝗮 𝗘𝗿𝗶𝗰𝗮 𝗦𝘂𝗱𝗶𝗯𝘆𝗼 on being awarded the 𝗜𝗜𝗦𝗠𝗔 (𝗜𝗻𝗱𝗼𝗻𝗲𝘀𝗶𝗮𝗻 𝗜𝗻𝘁𝗲𝗿𝗻𝗮𝘁𝗶𝗼𝗻𝗮𝗹 𝗦𝘁𝘂𝗱𝗲𝗻𝘁 𝗠𝗼𝗯𝗶𝗹𝗶𝘁𝘆 𝗔𝘄𝗮𝗿𝗱) to the 𝗨𝗻𝗶𝘃𝗲𝗿𝘀𝗶𝘁𝘆 𝗼𝗳 𝗪𝗮𝘁𝗲𝗿𝗹𝗼𝗼, 𝗖𝗮𝗻𝗮𝗱𝗮. A grand moment to witness one of our students being honoured with such great opportunity. Keep the grin unblemished for where this will take you!
Here's what Fransisca has to say on receiving this transcendent accomplishment:
"IISMA (Indonesian International Student Mobility Award) has given me the opportunity of broadening my knowledge by experiencing college life in a foreign country for a whole semester. This experience will surely be a stepping stone for me to start taking my part, as a student, in the nation's growth. From various college course options that cover broad interests, cultural immersion, lifetime connections, personal character development, and the chance of representing my country and home university — All of them create these wonderful feelings of excitement, nervousness, and anticipation!"
IISMA gave me the opportunity to be able to study at the University of Waterloo, Canada, for 1 semester. From this experience, I can connect with new people, feel new culture, study new courses, and undergo a new phase of life independently.
My interest in the environment began with my experience in attending the "Environmental Engineering" class at Binus University. When I succeeded in passing all stages of the 2021 IISMA selection, I was given the opportunity to broaden my horizons related to the environment. Iisma showed me that no dreams were too big.
I was encouraged to continue to get out of the comfort zone during my lecture period in Canada. Although it often feels scary, the discussions that are intertwined in class show me that, "There's Room for Everyone" and "There's no Stupid Question". Students are always given material as pre-post before the class begins, so that when the class begins, the teachers (lecturers or teaching assistants) provide space for discussion. One of the new habits that I found is that the presentation in class is not taken into account every day. Teachers believe that students can determine their own priorities, so that the presence in class is entirely a student's decision. However, of course there are times when the teachers will give an impromptu quiz where student presence is taken into account.
During the iisma, I lived in the dormitory. From this experience, I get new friends through various clubs held (Art Club, Music Club, Book Club, Boba Club, Cheese Club, etc.). Staying up late until morning to complete the assignment or study for the exam is also not boring because the hostel always holds "learning together" events with themes like Hot Chocolate Night, Breakfast Cereal Night, and so forth. Ahead of the exam, the teachers always remind students that their wellbeing is a priority, and even though the Exam Season is a stressed season, they hope that students can pay attention to their physical and mental health.
I believe that the opportunity will not come twice and Old Ways Won't Open New Doors. All opportunities that exist in sight during the lecture will open new doors in the future. After attending the IISMA, I became even more confident to have a career in the environment, so I compiled a thesis that examined the quality of river water.
Starting from the Department of Civil Engineering Binus University which provides the class "Environmental Engineering" to the Experience of IISMA at the University of Waterloo, my insight related to civil engineering so that the environment can develop, until now I can work as an ESG (Environmental, Social, and Governance) Analyst at ASTRA Property. I'm forever thanks.